Everyone knows who "Salt Bae" is right? If you don't, and have been living under a rock, he is a very handsome Turskish chef, and he sparked a thousand memes last month when a video of him sprinkling salt on a piece of meat went viral. Here is the video of him that almost broke the internet with the amount of memes created from it.
With that in mind, you can understand how much the internet freaked out when Bae's world collided with non other than Oscar-winner Leonardo DiCaprio! The actor Leonardo DiCaprio got his meat seasoned by meme king Salt Bae at the chef's Dubai steakhouse. He got the full treatment when Salt Bae cooked for him at his restaurant. But best of all is the photo that's circulating of the infamous chef mid-sprinkle as Leonardo watches on in awe, toothpick in mouth. I don't think there could possibly be a better photograph ever taken!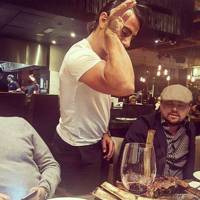 ---
Subscribe to Eagle's Blog!
Get the latest updates on country music and celebrity news, contests and flyaways, and more straight to your inbox with our weekly emails.